We want to present one of our projects! Commissioning of two gas carriers – a complex project is something that excites us the most. Multi-faceted work is our true superpower, which we provide during our long-term cooperation with We Tech Solutions Oy. We Tech is a supplier of Hybrid solutions for ships. Energy efficiency and fuel reduction is currently crucial point for all shipowners. Current and future development of rules and regulations will force a reduction of emissions onboard the ships. Have you ever thought of working on a complex hybridization project? How is it done?
Commissioning of Gas Carriers – Activities
Our newest project realized in South Korea was the commissioning of 2 sets of direct drive variable speed shaft generator systems for our long-term partner We Tech. This was a very challenging project for WW Technic, however, it is globally significant. The current situation in eastern Europe pushes countries forward to diversification of energy supplies. One of the biggest shortages in the market is gas carriers. All European countries are looking at how to close the gaps in the gas supply chain. Therefore gas carriers are critical for the energy safety of the whole of Europe.
We Tech and WW Technic are globally operating companies. Therefore orient locations like Hyundai Heavy Industries Shipyard in South Korea are quite normal for us. Shipyard is located in Ulsan, on the east coast. Even though our jobs are very exciting, we don't live only with work. After the successful realization of the project, our team had time to arrange a short trip.
However, the commissioning of Permanent Magnet Synchronous Generators (PMSG) isn't something that happens every day, therefore we are excited to be part of this project. This new complex technology has a strong impact on fuel consumption.
Trends on the market are very clear, we need to limit the usage of fossil fuels and at the same time, we need to secure our energy supply. These factors make this project very special for We Tech and us. In the text, you read already few words about the importance of diversification and the purpose of the ships. Now let's take a look into technology, which helps to reduce environmental impact, and save money for ship operators.
Technology – Variable Speed Shaft Generator
Variable Speed Shaft Generator is a simple concept and yet complex device. It consists of a Permanent Magnet Shaft Generator (PMSG) and Variable Frequency Drive (VFD).
Permanent Magnet Shaft Generator has strong permanent magnets fixed on the rotor and as the rotor is rotated by a prime mover (main engine), magnetic flux will induce voltage and current in the stator according to induction law invited by Faraday:
Variable Frequency Drive allows fully variable speed for the system allowing the vessel to operate at lower than rated speed while the shaft generator is connected to the grid. Without VFD, it would be able to operate only at rated speed, because generator frequency must match the grid frequency (50/60 Hz).
It's good to mention, that the same technology is also used in the most powerful wind turbines! However, the most important factors which are standing behind the Variable Speed Shaft generators are:
Reduced emission (CO2 + NOx + SOx + PM)
Flexible operation in a wide main engine speed range
Higher efficiency
Fuel/costs savings
Reduced mechanical complexity (Fewer parts used than in classic shaft generator')
The flexibility of integration in the Power Management System.
The system has its own integrated Power Management System (PMS), which helps ensure the safe, reliable, efficient, and compliant operation of the system and easier integration with ships PMS. It can take care of:
Handling internal control of PMSG
Protecting the system from various electrical incidents
Optimize maintenance and lifetime of the equipment
Ensure maximum available power flow
Realization of Integration – WWT Team
Teamwork, sharing of knowledge, and expert support from the office were crucial during that complex and challenging project. Therefore for the successful realization of this project, we engage a strong team of our engineers: Mateusz Dziuba, Artur Data, Jarek Dwulit, Karol Arndt, Oskar Polomski.
Although all of them come from different backgrounds, they are highly specialized in troubleshooting and commissioning marine automation, drives, and power systems. Some of them used to work on similar vessels before, others to design them. Therefore the diversified team of engineers successfully delivered projects on time.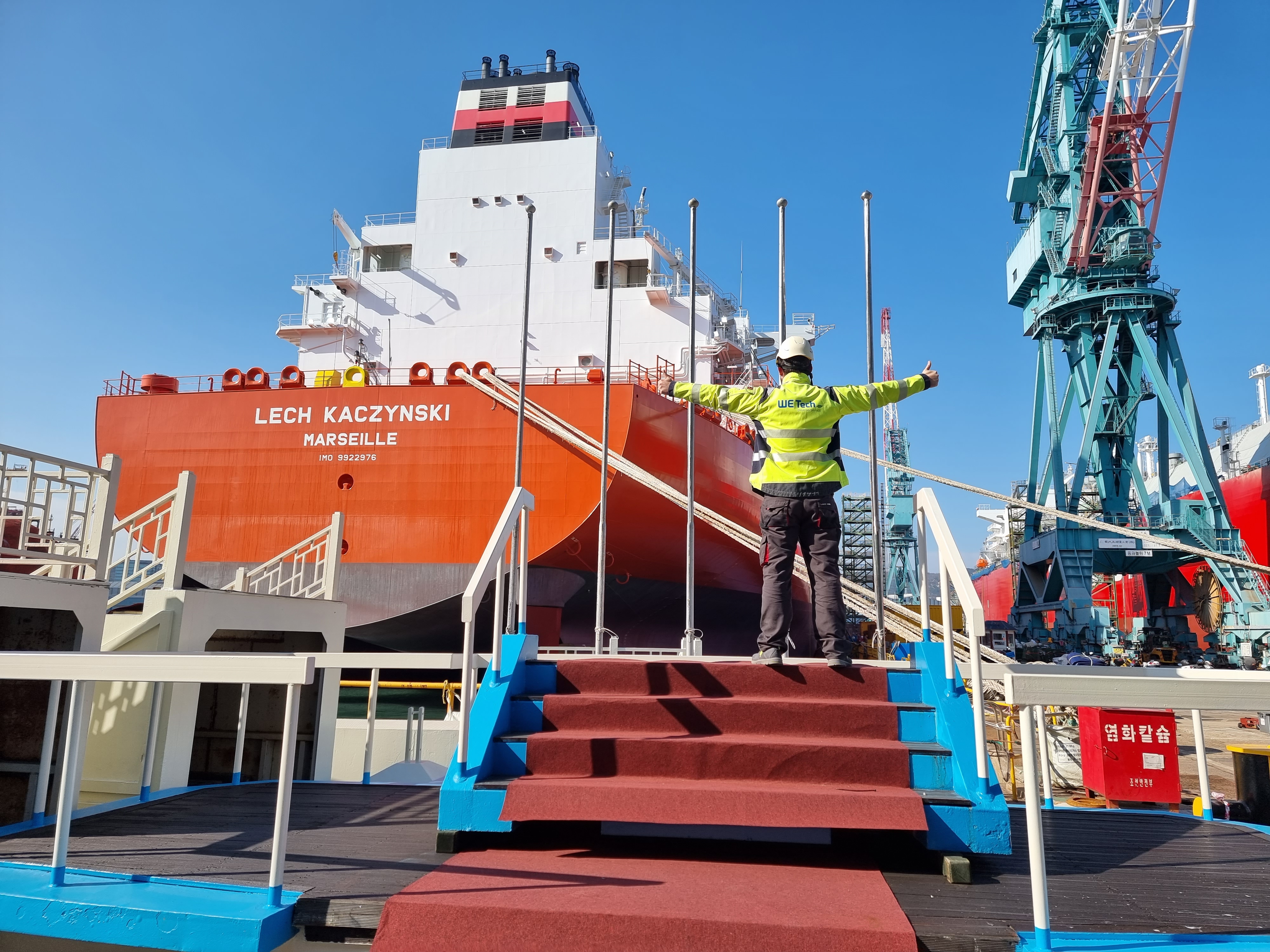 As you can see, our engineers are not only working with the newest technology on the market, but also closely cooperating together, and sharing their expertise in their domain with others. In our company, we truly believe, that the biggest value is to learn from each other. If You are interested to join our engineering team and grow together with your colleagues, check out our carriers page.
Conclusion – Commissioning in the Hybridization Market
Over the last few years, we are observing an increase in interest in hybrid installations. Demand in upcoming years will only grow. The impact of regulations, in the maritime industry, is powerful. We expect not only more commissioning of Gas Carriers. Hybridization of the ship propulsion system is rapidly developing. We experience already different kinds of systems, which we would like to present to you also in the future. As We are constantly growing our team, to be able to serve our customers, so If you like challenges, and grow Your career, reach out to us! We will also be happy to reply to any comments!